As the name suggests Baden near Vienna is a little town not far away from Austria's capital. Against expectation it is an ideal place for a getaway.
Baden is famous for a lot of things: spa town, imperial summer residence, Biedermeier architecture, Casino. It is – I don't know why – less known for its museums. They are small but excellent. Baden's most prominent spa guest was Ludwig van Beethoven. He went for long walks and had his favourite spots.
That's quite understandable because this little path through the Schwechat River Valley is very idyllic.
The house Beethoven used to rent and where he composed parts of the 9th symphony is now a beautiful and innovative museum.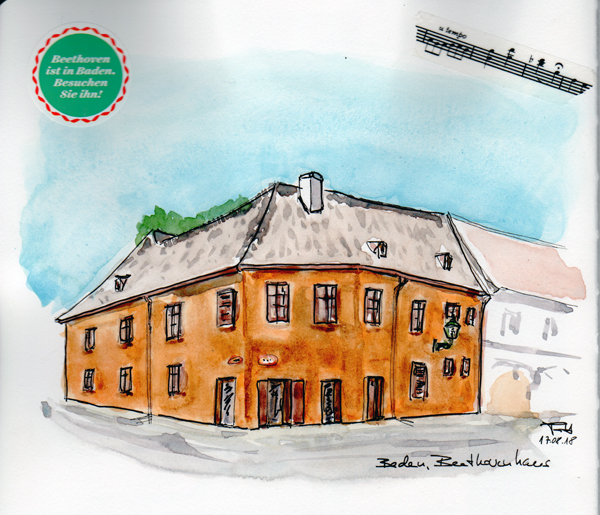 The private collection of the physician Anton Franz Rollett was the beginning of the Rollettmuseum. It was enlarged by further exhibits from the town archive. Today it looks as if the town of Baden cleaned the attic after several hundred years and put on display everything. Beside the motley sometimes bizarre mix of exhibits the museum provides an exceptional friendly staff.
Baden has a hot springs resort called "Römertherme". I doubt that the romans would have used it. It has the charm of the 1970ies on the outside as in the inside. The spar garden is much more charming. On the top of it is a small Asclepius temple, which was a good motive for a watercolour first sketch.
In 1934 the Casino Baden opened in the former Kurhaus. This is the main entrance of a multi-storeyed building with a big terrace. Although I had plenty of time I wanted to do this quickly as a true travel sketch: only the main focus, minimum setup, watercolour first, and everything as fast as possible.
I am really not a gambler but I like to visit the Casino from time to time. They offer a stunning package with a multi-course menu. The cocktails are below-average but the food and the wine selection are delicious. And honestly, where they have waiters like this, one has to feel good.