Beside some pathetic attempts in calligraphy during schooldays I had no idea about waterproof ink before I began urban sketching. On the internet I discovered two major recommendations: Noodlers and De Atramentis. Both brands are not available in the local sale. But I found Rohrers Traditional Ink in different colours of which I chose Ceresblack. Instantly I realised that the ink was not totally opaque and had a slight green cast. At this time I started with Lizz Steel's Foundation course, where I mention my concerns about the ink. Mark, another participant, wrote that he liked the ink because it is different and after all everyone uses a black opaque ink. Fantastic! I just started sketching and had already found my unique feature.
During an assignment for the course I experienced troubles with the ink flow. I had to shake my fountain pen, press the nip on the paper and draw some lines while pressing it before the ink flowed again. From that moment on I kept the fountain pen in a vertical position with the nib down. It didn't help. Because I use an EF nib I assumed the paper would be too rough. But even on a simple writing paper the ink had initial troubles. I slowly began to pity m fountain pen due to all the shaking and pressing. Meanwhile the ink flow stagnated even during sketching. It was time to test another ink. Now I chose De Atramentis.
Comparing both inks one realises immediately the difference in colour. Rohrers is more grey green, while De Atramentis is deep black.
Roheres Traditional Ink takes longer to dry and seems to disappear in direct contact with water. De Atramentis Document Ink dries faster and has less problems with water. (The producer also offers a special dilution, which I haven't tested until now.)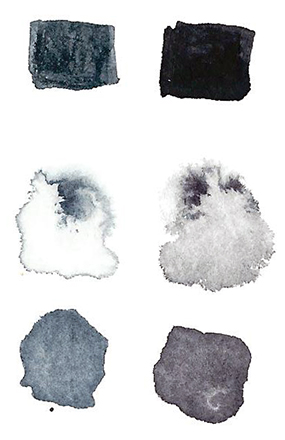 The ultimate criteria for the change is the consistency. With De Atramentis even the thinnest nip glides over the paper, no matter how rough it is. If the fountain pen isn't used for several days this has no disadvantageous effect on the ink flow. That's why I use De Atramentis now although I lost my unique feature.
However De Atramentis has two important disadvantages I need to mention. First, it is very expensive. Second, it is such an effort to get this ink, that I wrote a separate post about it. → Ink Colour – Or The Absurd Secrets Of Amazon