My last beach holiday was decades ago and I have never longed to repeat it since. So when I was asked if I wanted to spend two weeks at the North Sea, it was clear from the start how these days would turn out. We wanted a thatched house on the beach between beach chairs and lighthouse. With the rental car we would explore the area, make a crossing to Helgoland, do a guided mudflat walk and I would sketch in the dunes. Where, if not on a peninsula called Nordstrand in Schleswig-Holstein would all this be possible?
The admittedly nice house had no thatched roof and was not directly on the beach, but within walking distance – of a salt marsh. In general we saw a lot of grass and little … no, actually … no sand at all. As far as the eye could see, there were meadows with sheep, sheep and more sheep. Instead of holidays at the beach we had holidays in the countryside.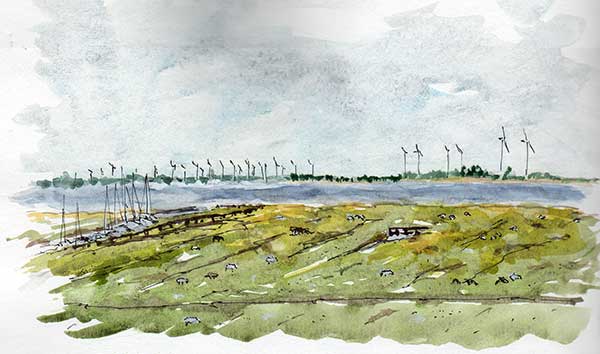 After three days I had seen exactly one lighthouse: the tile mosaic in the bathroom of our holiday home. The beach chairs stood almost without exception in outdoor dining areas and front gardens. The only beach I could discover were a few square metres of sand between a sluice and another flock of sheep. Not only counting sheep got an undreamt-of meaning here. Although Austrians and Germans vehemently deny it in public, secretly they have a lot in common, including the common language, or so I thought.
In Austria the prepositions "at" or "to" suggest a certain proximity. In Northern Germany the situation is different. One day we passed a house called "To The Sea View". To look at the sea from this building, one would have had to lie down on the roof with a telescope. These communication difficulties perhaps explained why I met almost exclusively German tourists. For a long time I was convinced that we two Austrians were the only foreign tourists. But where were the dunes, the beach chairs, the lighthouses? Definitely not here! So we set out to look for them.
This was not so easy, because we also got to know a new definition of "changeable". In 1999, I experienced sunshine, cloud cover, storm and rain within 15 minutes in Ireland. Compared to North Frisia, these were constant weather conditions. I swear, once I looked out the front window of the house and it was raining, while looking out the back window there was bright sunshine. It became a main occupation to unpack the rain jacket, pack it, unpack it, pack it, … First we tried our luck in Büsum, which has a very nice lighthouse, unfortunately covered by a building site. A walk through the Hafenstraße with a view to the main beach teaches us to appreciate our domicile in Nordstrand. St. Peter-Ording promised a beach with parking place and the proximity to a famous lighthouse. Right at the beginning, we did not make it to the beach. It was simply too beautiful to walk through the place, which we did extensively. So we had to make a decision. On to Westerheversand! The journey turned out to be a Kafkaesque adventure. You see the lighthouse during the approach, but it seems to recede from you the closer you get. Contrary to our expectations we reached the paid parking lot at the lighthouse. As already mentioned: in this area "at" means "out of sight". The lighthouse is located 2.6 km further behind a dike. Thus, those who are not good on foot and still want to see the most photographed lighthouse of the area will need some binoculars or a good lens.
The two weeks on the North Sea coast did not meet my expectations at all, but they were not as bad as it reads. Only the trip to Helgoland, I could have saved myself. On the outward journey I was seasick, during the stay I tried to recover from it and on the return journey I got seasick again. Nordstrand and its idyllic, quiet surroundings have a lot to offer. Even a windmill, which is a bakery now.
Husum is a charming town, where the Theodor Storm Museum is worth an extensive visit. The local tea rooms spoil the guests besides tea with the famous Pharisee, a coffee variation invented on Nordstrand, and sensational cakes. In terms of size, they are oriented like the Viennese coffeehouses towards Gulliver's Travels, except that unfortunately Vienna takes its measure of Liliput, northern Germany fortunately of Brobdingnag. A special highlight was the entertaining, but above all informative mudflat hike.
In the end I actually found what I was looking for. An excursion led us to the charming city of Lübeck. Our German relatives, whom we unfortunately see far too seldom, organized a great day, which we let end in Travemünde. And suddenly I saw what I had been longing for: beach, beach chairs, lighthouse. All there – at the Baltic Sea.